A gallery of Northern Lights images photographed in the landscape orientation.
Landscape format print is wider than it is tall, is perfect for the majority of walls, from breathtaking large solo images to a wall composed of many sizes creating balance and harmony.
A gallery of Northern Lights images capturing a broad view.
Panoramic prints have a wide format with a wide field of view. As centerpiece or solo image, they are a dramatic and breathtaking way to decorate your home or office.
A collection of Northern Lights images specially composed in the portrait orientation.
Portrait format creates a picture that is taller than it is wide, ideal for a special wall or combining with different sizes and/or orientations creating an interesting and well composed wall.
A collection of pristine night skies images photographed in many of the Certified International Dark Sky Communities in Arizona.
An IDA International Dark Sky Community is a town or community that has shown exceptional dedication to the preservation of the night sky.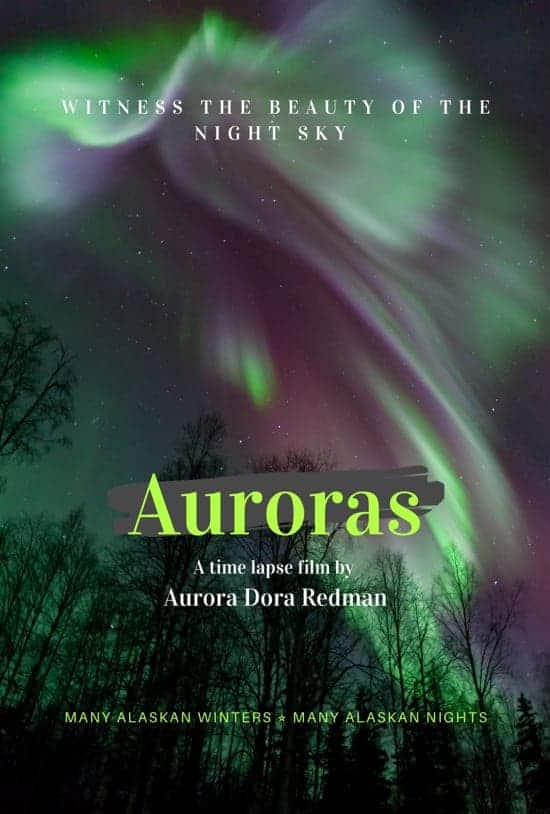 'Auroras' by Aurora Dora takes you to the magical journey of experiencing the Aurora Borealis across the Alaskan skies. 'Auroras' is a non-narrative time-lapse film that presents the Northern Lights dancing through music. It is composed of over 48,000 still images photographed in Southcentral Alaska, between Talkeetna and Denali State Park.
This film is a work of passion for this solo photographer. Aurora Dora Redman spent many winters, many nights, and lots of subzero temperatures witnessing and capturing the beauty of the night sky. 
Meet Dora
"Aurora" Dora Redman has been photographing the Aurora Borealis since moving to Alaska in 2001. 
"I never heard about the Northern Lights before I moved to Alaska. The first time I saw them it was love at first sight. From there on I knew what I wanted to do, I wanted to share the Auroras with the world and show them to everyone who doesn't have the opportunity to see the Northern lights. That's what I have been doing since."
Her creations can be seen here on her website, in many Lodges in Alaska, many publications, and at her gallery, Aurora Dora, in downtown Talkeetna, Alaska.