Meet "Aurora" Dora Redman
When it's dark, I see the lights!
"Aurora" Dora Redman, relocated from Sao Paulo, Brazil, to Alaska in 2001 and has been chasing and photographing Aurora Borealis (Northern Lights) ever since. 
"I never heard about the Northern Lights before I moved to Alaska. The first time I saw them it was love at first sight. That was it! From here on I knew what I wanted to do, I wanted to share the Auroras with the world and show them to everyone who doesn't have the opportunity to see the Northern lights. That's what I have been doing since."
Her creations can be seen here on her website, in many Lodges in Alaska and at her gallery, Aurora Dora, in downtown Talkeetna, Alaska (Main Street & Talkeetna Spur Road).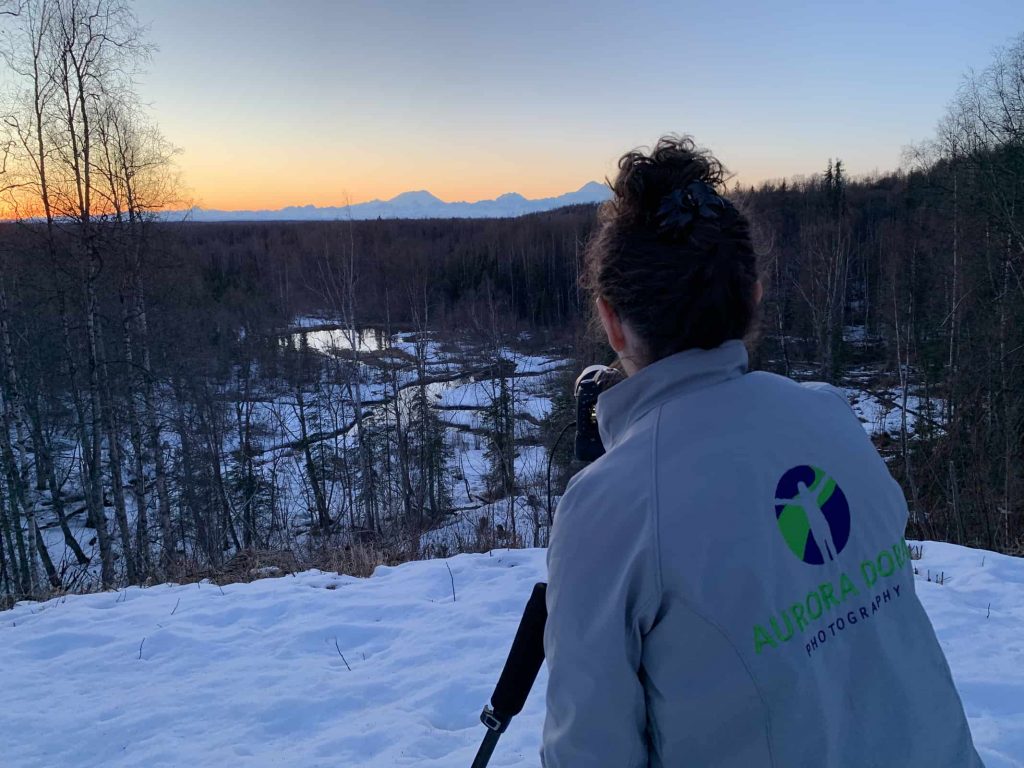 Exhibits
Collective Exhibitions
DarkSky International's CAPTURE THE DARK COMPETITION & EXHIBITION with "Feeding My Soul" - July 2023
INVITED for 7th ANNUAL ALLEGANY NATIONAL PHOTOGRAPHY COMPETITION & EXHIBITION with "Splash Aurora" - April 2 to 24, 2021 - Allegany Arts Council - Cumberland, MD
2021 WOMEN IN ART - March 4 to 27, 2021 with "Feeding My Soul" - Las Laguna Art Gallery - Laguna Beach, CA
THE MAGIC OF WATER - online exhibit with "Splash Aurora" - Cultural Center of Cape Cod - South Yarmouth, MA
2021 LANDSCAPES - February 4 to 27, 2021 with "Colorful Winter Night" - Las Laguna Art Gallery - Laguna Beach, CA
THE HEALING POWER OF ART 2019 ART EXHIBITION - Manhattan Arts International - Winner of the Award of Excellence for the image "Favorite Spot Aurora"
FAVORITE PHOTOGRAPH 2018 EXHIBITION  by Lenscratch
RAREFIED LIGHT 2018 - 

 

September 28 to November 25, 2018 - Anchorage Museum at Rasmuson Center, Anchorage, Alaska
RAREFIED LIGHT 2018 - December 7 to December 30, 2018 - Bear Gallery, Alaska Centennial Center of the Arts, Fairbanks, Alaska
RAREFIED LIGHT 2018 - January 14 to February 28, 2019 - Kenai Peninsula College, Kenai/Soldotna

2015 - COLORS OF WINTER TALKEETNA PHOTOGRAPHY INVITATIONAL - Sheldon Community Arts Hangar, Talkeetna, Alaska

2013-2016 - Collection - Town Square Art Gallery, Wasilla, Alaska
2013 Alaska Wild - ASOP - Traveling Exhibit through Alaska
Individual Exhibitions
Permanent Exhibition - Aurora Dora Gallery - Talkeetna, Alaska

2018-2019 - Aurora Dora Gallery - Sedona, Arizona

2013 - COLORFUL WINTER NIGHTS - Flying Squirrel, Talkeetna, Alaska

2009 - CAPTURED CONTRASTS, BRAZIL TO ALASKA - Denali Arts Council, Talkeetna, Alaska
Publications
NASA

National Geographic Travel

Space Weather Live

Washington Post

space.com

Geophysical Institute UAF

The Complete Guide to Landscape Astrophotography by Mike Shaw 

Society of Nature Photographers 

Alaska Magazine

Last Frontier Magazine

Northwest Travel & Life Magazine

Nature Photographer Magazine      

Landscape Photography Magazine

AFAR

El Universo Hoy   

Jornal de Jundiai (Brasil)    ... Just to name a few
Also find me at
Member of
IDA - International Dark-Sky Association
ASONP - Alaska Society of Outdoor & Nature Photographers 
Women Photograph
ATIA Alaska Travel Industry Association
Presented at
International Dark-Sky Week - April 5 to 12, 2021
Portland Winter Light Festival 2019 - Portland, Oregon - February 7 to 9, 2019