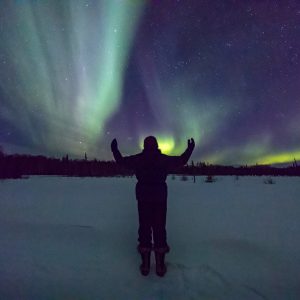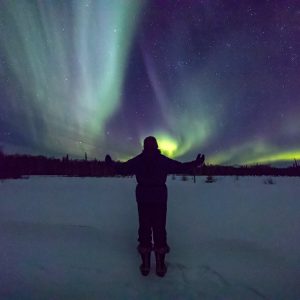 This is a private photography workshop. Only you/your group will participate. Learn from an expert how to photograph the night skies and the northern lights (Aurora Borealis) from the best viewing locations for Auroras in Talkeetna without having to scout the vast and unfamiliar winter landscape.
During the workshop, I will explain the science of auroras, talk about camera equipment and settings, etc. We will spend 3 to 4 hours photographing the skies and, hopefully, the auroras from one or more of my favorite locations. We will concentrate on the techniques necessary to capture low light and night sky photos, practicing these technique skills, and exploring anything else you would like to learn about night sky and aurora photography. Our photography workshops are suitable for all levels of experience.
Weather is an uncontrollable factor in night sky and northern lights photography. Regardless of the conditions, we will stay out and shoot as long as it is safe to do so. Clouds play a significant role while capturing the night sky. However, even during completely overcast conditions, I promise you will come away with beautiful images, knowledge, and capabilities of capturing the night sky and the northern lights. Dress accordingly for the outside weather.
The cost of the private workshop is $600.00 per person ($300 companion fee for tag along of workshop attendees without camera equipment or intention to take photos). Contact me at [email protected] or at (907)841-5620 for availability and to schedule your workshop.
Basic equipment: DSLR or Mirrorless Camera; Wide angle lens, f/2.8; Sturdy tripod; Cable release and Headlamp (must include a red light).
We will meet at Aurora Dora Gallery (22229 S Talkeetna Spur Rd, Talkeetna) or another place if prior arranged.
Refund of 100% for cancelations before 30 days of the scheduled workshop.